Ideas are two a penny -true or false?
I'm addicted to ideas, having a good one is one of the most energising experiences I know...
and there are many ways to provoke ideas such as experiencing something novel, a strong emotion or catching sight of something fleeting out the corner of my eye. I'm especially susceptible to facts that stop me short... 'Well, I never!'.... did you know that flowering waterlilies are female for three days then male for one day only? Anyone wanting to cross pollinate them has that one day to find a flower in the male part of its cycle. And Germans call them sea roses. Isn't that enough to make you want to at least tuck the information behind your ear, as the Danes say, for the future? The key thing is to notice something, to pluck it from the everyday soup of stimuli and eventually to explore that noticing.
Any talk of ideas inevitably leads to asking 'What is inspiration?' Sparkle Dust? Dream Fog? I'd say all those but mainly about finding a way to connect two or more ideas and there are dozens of tricks artists and writers use to make those connections.
Juxtaposing unconnected images gives me ideas for bigger paintings.
The water lily information is waiting in my notebook for me to decide what to do with it and may not resurface until maybe years from now but once I've written it down, a good idea will usually keep.
Twenty years ago I was strolling along a beach in northern Denmark with William Neill, an American composer I've worked with several times, as a poet. The January afternoon light was failing, the creamy sea and sky were glassy smooth and the little beach was strewn with boulders. All was quiet and still.
"Ideas are two a penny", Bill said.
Surely not. Ideas were precious, every single one. I wrote mine down in books I would have grabbed first in the event of a fire.
It's what you do with them that counts." he continued.
Which didn't help. In fact it was double daunting. A good idea that you can't or don't do justice to despite trying your very best... dreadful thought. I can't remember what I might have replied, whatever it was, I was certainly stalling. I needed to think about all this later. In fact it didn't take long to realise Bill was right , having the idea is the easy bit after that all sorts of possible pitfalls raise their head. For one thing, any inspiration has to generate enough energy to get over initial inertia and fear, silence any self doubts and to set about whatever research is necessary. Once I make a start, one thought leads to another and there's a fantastic stage when everything seems to connect to the very things I am thinking about. Coincidences abound: I happen to have a conversation with someone who comes from the place I want to know about or the perfect book/documentary comes along at just the right time. In this exhilarating phase things interconnect wildly, as if the universe were aware of my train of thought and sent winds to blow in my favour. Exhilarating.The downside is this phase can be hard to control, making it difficult to switch off or sleep. In its extreme it's exhausting.
Probably the most important element of getting somewhere with an idea is finding the psychological stamina to keep going through stages when the whole thing seems to be going down the pan and you become bored and dispirited. Some of my ideas have had to wait a long time, through repeated failures , for me to develop the necessary skills and judgement to use them well. I asked myself how come I was writing about this subject just now and think it's that I've just finished 'The Climb' a piece based on the the gritstone Edges of the Peak District.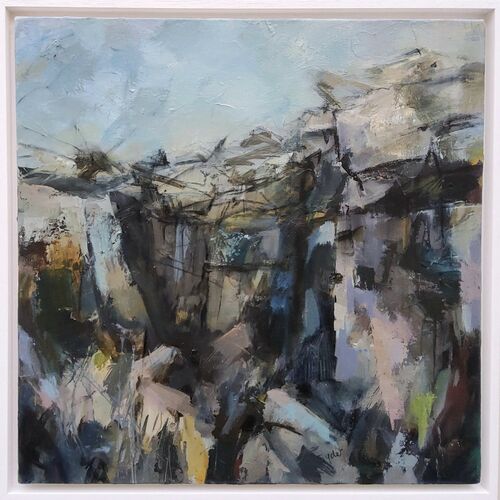 I'm no climber but these long escarpments stretching across the moors have always had a place in my life and imagination and though at intervals I've tried to make paintings, this is the first I've ever been pleased with. The best ideas will persist and repeat themselves in different guises, becoming veins that mature into recurrent themes in an artist's work.
Yes, I still think ideas are precious but recognise the doing is the important bit. In the real world some ideas will eventually earn their keep, some will be a flash in the pan, some will evaporate and some will languish as scribbles in a notebook, never to be acted upon. Over time that all becomes OK. The main thing is to never to stop searching for ideas and enjoying them when they arrive.
On the bookshelf
Under the Greenwood. pub. by Sansom & Company
Something for all tree lovers - a selection of paintings and prints by well known artists past and present, featuring trees. Kurt Jackson is in there (that's him on the cover) as is David Inshaw and Palmer of course as well as Paul Nash and Durer. I was moved by the tree paintings of Michael Porter (whose work I always love), George Manoir and Albert Lucas (both new discoveries for me). In colour of course. Lots to inspire and admire.